Cabo Roig Beach
Cala Capitan, a beautiful Cabo Roig beach.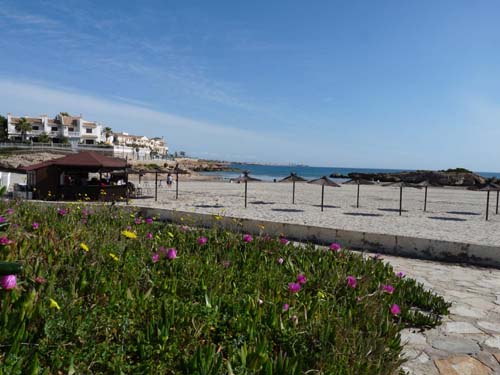 Cala Capitan Beach Cabo Roig
Cabo Roig Beach - Cala Capitan: The largest of Cabo Roig's two main beaches, Cala Capitan is composed of fine, white sand and has 2 distinct swimming areas, a shallow calm bay which is very safe for children and a deeper area, more suitable for adults. Lifeguards are on duty during popular times and the beach bar (chiringuito) provides welcome refreshments and ice-creams. Cala Capitan gets pretty crowded during July and August, when the weather is at its hottest, but you can generally find a spot as the beach stretches for some distance.
Cala Capitan is bigger and busier than the other beach at Cala Caleta, which is called Playa Goleta, it is a little easier to get to and parking is better.
Location: Calle Capitan, Cabo Roig, Alicante, Spain.
More Information: APARTMENTS - BUSHWACKA - MAP